TORONTO, ON – Ontario Premier Kathleen Wynne and Ministers of Finance and Energy now face legal troubles over the privatization of Hydro One. The Premier along with Minister Charles Sousa and Minister Glenn Thibeault have been served the mandatory 60-day notice of intent to file a suit against them for misfeasance while in public office.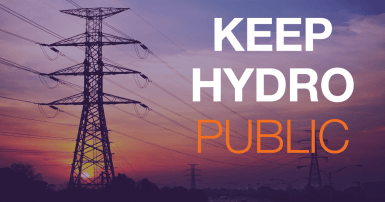 "Our goal with this lawsuit is to protect the people of Ontario and Hydro One ratepayers, to stop any further sale of shares in Hydro One and keep the majority of shares in public hands," said Fred Hahn, President of CUPE Ontario and one of the plaintiffs in the case. "The Premier and her Ministers had no political mandate to pursue the sell-off, experts made it clear the sale would be bad for Ontario and still they chose to proceed with privatization. Why?"
Prior to the sale of shares, internal government documents showed the vast majority of Ontarians were opposed to the privatization of Hydro One. Among the expert advice warning the Premier against the sale was the Province's own financial accountability officer who stated: "In the years following the sale of 60 per cent of Hydro One, the province's budget balance would be worse than it would have been without the sale. The province's net debt would initially be reduced, but will eventually be higher than it would have been without the sale."
It has now been repeatedly reported that the Premier and her government Ministers have held exclusive fundraising events to raise money for the Ontario Liberal Party with ticket costs running up to $10,000 each. A recent Globe and Mail investigation uncovered that invitations to, and attendance at these exclusive events included the banks that have made nearly $60 million from the privatization of Hydro One so far.
"As with all suits of this nature we are required to serve notice 60-days in advance of filing with the court," said Darrell Brown, Partner at Goldblatt Partners and one of the legal counsel working on the case. "We cannot get into the specifics of the case until it is filed, the claim will be accessible to the public when we file it in November."
"We do not undertake this lawsuit lightly, but our government has chosen to blatantly ignore the voices of the people and we've been left with little choice," said Hahn speaking at a press conference at Queen's Park. "Further sales of Hydro One shares must be stopped before the people of Ontario lose majority control over our electricity system. We anticipate others may want to sign on to the suit before we file in November."
CUPE is Ontario's community union, with more than 260,000 members providing quality public services we all rely on, in every part of the province, every day. CUPE Ontario members are proud to work in social services, health care, municipalities, school boards, universities and airlines.
For more information contact:
Sarah Jordison
CUPE Communications
416-578-5638
www.cupe.on.ca